This charming children's picture book begins when cabbage starts disappearing from Doozy Moo's farm. Follow Doozy Moo through an adorable adventure as he and his neighbor Pop use their problem-solving skills to catch a funny thief. It's a beautifully illustrated short story that teaches kids two important moral lessons: stealing is wrong and the benefits of forgiveness.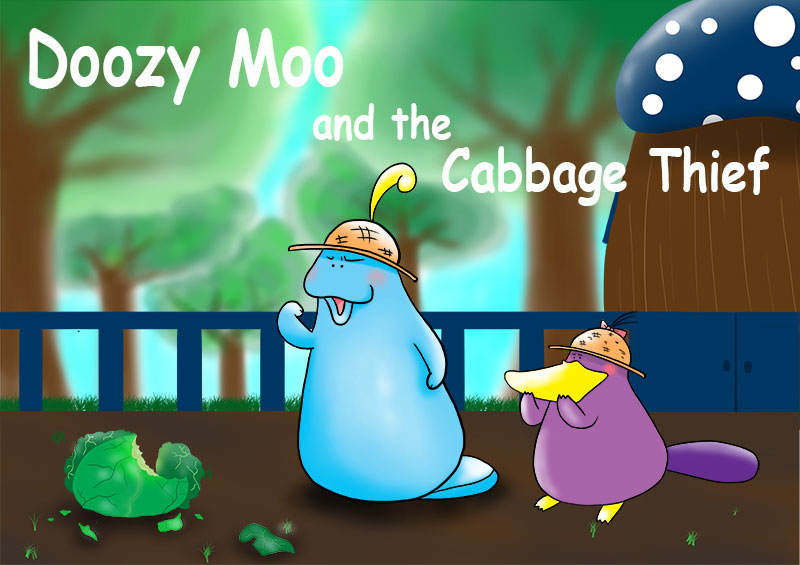 Children's Book Formats
Related Activities
A Variety of Ways to Enjoy This Children's Picture Book
Doozy Moo and the Cabbage Thief has been made into a free PDF eBook, audiobook, and read aloud video. Kids can watch, listen, and read this cute short story online. They can also improve their reading comprehension and communication skills with the free activities that go along with this children's book.
All of our children's picture books include activities that encourage speech and language development.
Children's Book Formats
Free Read Aloud Video
This children's book is read aloud by a full cast, including the author. It features original music and sound effects that can make kids feel like they are part of the story. They can improve their word recognition skills by following the text on the screen as the book is read online.
Free PDF eBook for Kids: Read Online
This short moral story for kids has been published as a PDF eBook. This makes it easy to read on just about any device. If you have access to an e-reader, tablet, smartphone, or computer, then you can read this children's book in the PDF file format.
Free Audiobook for Kids: Download or Listen Online
You can listen to this audiobook online using the digital audio player that follows this paragraph. You also have the option to download the MP3 file and listen to the book offline by clicking the downward arrow in the audio player.
Related Activities
Free Printable Worksheets
Kids can learn and be entertained at the same time with this series of free worksheets based on the short moral story, Doozy Moo and the Cabbage Thief. The worksheets include a maze, word search, crossword puzzle, coloring page, and a visual memory activity.
These activity worksheets can help kids improve their reading, listening, observational, fine motor, and problem-solving skills. They can also help children with hand-eye coordination, vocabulary building, spelling, and short term memory.

Funny Reaction Images (Messaging Stickers)
Kids can have fun while improving their communication skills by using these silly images when talking to their friends and family online. Visual communication is becoming more popular everyday, so getting kids started early can be helpful for their future selves.
These funny reaction images can be used in conversations, messages, texting, email, and on social media. They are a lighthearted way for kids to express emotions, thoughts, and feelings.

View All Children's Picture Books