Kids can learn their ABCs by watching the video of this cute alphabet song and then using the free complementary worksheets.
Alphabet Song Worksheets (Free Printables)
These free printable worksheets add another dimension to Doozy Moo's alphabet song. They reinforce each letter using the same imagery found in the video. This makes it easier for students in preschool and kindergarten to learn the alphabet.
Alphabet Chart
This chart features upper and lowercase letters, simple sentences, and cute pictures. Kids can sing along with the alphabet song using this chart as the lyrics are virtually identical. The black and white version of the alphabet chart can also be used as a fun coloring page which can help improve a child's letter recognition.

Alphabet Chart
Black and White Alphabet Chart
Alphabet Activity Worksheets
Each letter of the English alphabet has its own activity worksheet. After all of the worksheets are completed, they can be put together to make a unique alphabet book. When used in combination with Doozy Moo's alphabet song, these worksheets will serve as a fun learning tool for teachers and parents to teach phonics. Kids can then use their new alphabet book when watching or listening to the alphabet song to reinforce what they have learned.

Practice their handwriting skills by tracing the upper and lowercase letters.
Improve their reading ability by reading aloud all 26 sentences.
Build their vocabulary by learning new words.
Boost their creativity by coloring the cute images, letters, and words.
Develop fine motor skills by using scissors to cut along the dotted lines.
Learn basic sorting skills by putting all of the worksheets together in alphabetical order.
Get a sense of accomplishment by creating their very own alphabet book.
Download the Alphabet Song and Video
You can download the audio and video versions of Doozy Moo's alphabet song on Patreon. You can also download and print each series of alphabet worksheets at once with our Alphabet Worksheets Super Bundle. This is especially handy for people who want to save time. You will also be helping us create more Doozy Moo stories, videos, and worksheets. Either way, we hope you enjoy Doozy Moo as much as we do!

Alphabet Song Lyrics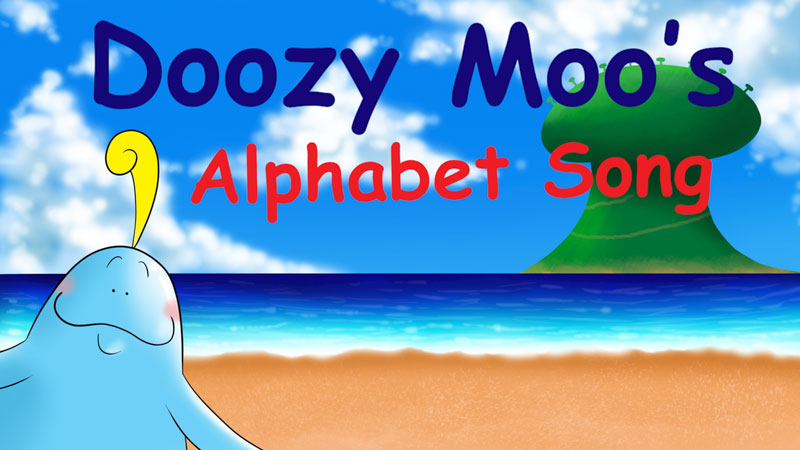 Lyrics to Doozy Moo's Alphabet Song
A – B – C – D – E – F – G – H – I – J – K – L – M – N – O – P – Q – R – S – T – U – V – W – X – Y – Z
A is for ant.
B is for bee.
C is for cow.
D is for dog.
E is for eel.
F is for frog.
G is for goat.
H is for hungry.
I is for itchy.
J is for jellyfish.
K is for kite.
L is for lazy.
M is mushroom.
N is for neighbor.
O is for octopus.
P is for penguin.
Q is quilt.
R is for rest.
S is for swim.
T is for turtle.
U is for up.
V is for vegetable.
W is for worm.
X is for x-ray.
Y is for yarn.
Z is for zebra.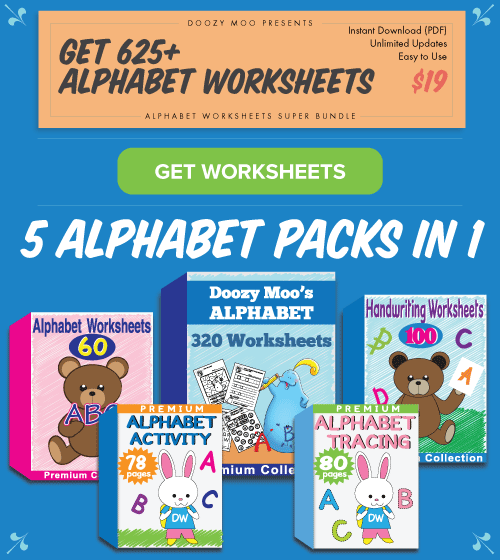 View Our Alphabet Worksheets